Turrets
From MechWarrior: Living Legends Wiki
Turrets are dynamic structures found on various maps, typically around or near bases and capture points. Turrets are primarily defensive structures intended to discourage base camping or back-capping, or defender assistance during a base defense. In the Terrain Control mode, turrets can change sides depending on which team holds the base they are assigned to.
Defensive Turrets
Calliope
The Calliope is the most dangerous turret, found only in home bases in the Team Solaris Arena and Terrain Control game modes. They can bring devastating damage to bear on any unit careless enough to wander into their range.
Calliope turrets are equipped with 2 Medium Beam Lasers that can deal moderate damage with high accuracy, 20 Short Range Missile tubes that deal impressive damage even on heavy and assault sized targets, and 2 Machine Guns, that add a punch against airborne targets and any Battle Armor that were lucky enough to survive the laser barrage.
Their only weakness is the low range of most their weapons. Calliopes are unable to deal significant damage to targets that are further then 500m away, and most of their firepower only comes into play at less then 350m.
Eagle Eye
The Eagle Eye is a dedicated Anti-Air turret that is found on some Terrain Control maps.
Equipped with a powerful Rotary AutoCannon, it is able to severely damage even a heavily armored Shiva in a very short time, and ASF or VTOL pilots should avoid it by all costs.
It will not engage ground units, and has comparatively low armor, so it is easily destroyed by Mechs or Ground Vehicles.
Hawk Eye
The Hawk Eye turret was introduced with MWLL 0.6.0 as a lighter alternative to the Eagle Eye.
Equipped with only a single Machine Gun, and firing only in short bursts it is much less frustrating for pilots to play against, while still offering nearby ground units some cover from air attacks.
It has replaced the Eagle Eye on most captureable bases on official Terrain Control maps.
Hellgiver
The Hellgiver is a heavy defensive turret, that uses the same design as the Sentinel turret.
Equipped with a single ER Large Beam Laser, it is able to deal significant damage to anything up to 800m away, often enabling it to fire 2 or 3 shots before attacking forces are able to returning fire.
Sentinel

The Sentinel is the most common turret, found in most Terrain Control bases.
Equipped with only one Medium Beam Laser, a single Sentinel is no big threat to anything in the medium weight category or above, but they can often be found in groups of two or more. Even a heavy 'Mech can sustain critical damage if it accidentally stumbles into the firing arc of a pack of Sentinels. They are also very dangerous to Battle Armor that come into range, as a single salvo will kill the BA, but fortunately they can only target them if within 250m.
Utility Turrets
LAMS Turret
The LAMS Turret is a larger, stationary version of LAMS found on some Mechs. These turrets feature much greater range than standard LAMS, and are also able to shoot down incoming and outgoing Long Tom Artillery, Tbolts and Bombs, unlike standard, mobile version of LAMS. These turrets shoot both friendly and enemy missiles, resulting in damage to units attempting to LRM camp from their base.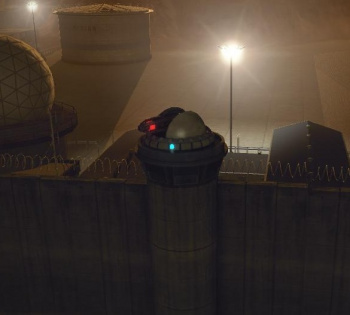 See Also